Medium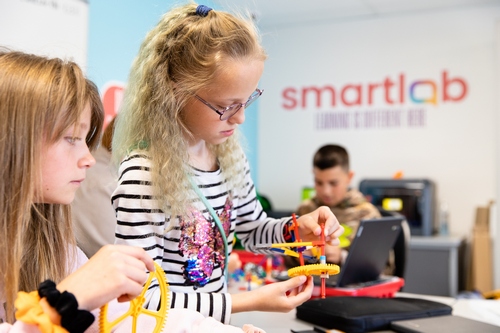 Welcome to the SmartLab
Welcome to North Dakota's premiere project based learning environment. North Dakota's Center for Distance Education (NDCDE) is excited to offer a blended, project based learning program designed for North Dakota schools and their students in grades K-12. The program has been described as STEAM focused, but blends curricular content from all core areas. ND SmartLabs is a turn-key approach to bringing learning opportunities to students that focus on the development of problem solving skills, critical thinking, collaboration, creativity, and design principles. NDCDE has partnered with Creative Learning Systems (CLS) to design a SmartLab program that is customized for North Dakota schools regardless of their size or location.
What is a SmartLab?
Students learn content through cloud based information contained in "learning launchers". A learning launcher contains all the information that the student and their partner will need for successful project completion including; content knowledge, project instructions, and extension activities. Each SmartLab also comes with designed templates to authentically assess students using journals, presentations, and self-reflections.
In addition, each ND SmartLab comes with Dell all-in-one computers (1 per two students), additional hardware, software, and fully assembled project kits that are needed for successful completion of each learning launcher. The only thing supplied by the local school is room to place the SmartLab and the tables and chairs needed for students and the equipment.
Once you are convinced
There are a growing number of opportunities to see a ND SmartLab in action throughout North Dakota as more and more communities are making the decision to bring this exciting program into their school district. Please contact Tonya Greywind, our Assistant State Director at 701-639-2266 or tonya.greywind@k12.nd.us to set up a visit to one of these established locations. Feel free to explore the videos, photos, and anecdotal evidence on our website about the successful implementation of the ND SmartLab program in other ND schools.