Medium
Welcome to the SmartLab
Welcome to North Dakota's premiere project-based learning environment. North Dakota's Center for Distance Education (NDCDE) is excited to offer a blended, project-based learning program designed for North Dakota schools and their students in grades K-12. The program has been described as STEAM focused but blends curricular content from all core areas. ND SmartLabs is a turn-key approach to bringing learning opportunities to students that focus on the development of problem-solving skills, critical thinking, collaboration, creativity, and design principles. NDCDE has partnered with Creative Learning Systems (CLS) to design a SmartLab program that is customized for North Dakota schools regardless of their size or location.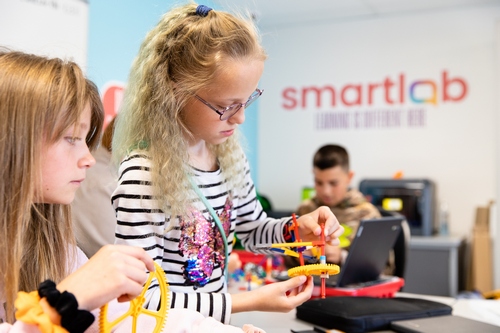 What is a SmartLab?
A SmartLab is a project-based learning environment that is turnkey and can be installed in your school. Teachers will be trained to work with students in the lab that provides all curriculum, materials, technology, and assessments necessary to create successful 21st century learners. SmartLabs include:
Computers
Kits
Additional Hardware
Software
Teacher Training
Lab installation
Curriculum K-12
Assessment templates
Ongoing support through NDCDE and CLS
Once you are convinced
There are a growing number of opportunities to see a ND SmartLab in action throughout North Dakota as more and more communities are making the decision to bring this exciting program into their school district. Please contact Dr. Tonya Greywind, our Assistant State Director, at 701-561-8936 or our ND SmartLab Information Request Form to set up a visit to one of these established locations. Feel free to explore the videos, photos, and anecdotal evidence on our website about the successful implementation of the ND SmartLab program in other ND schools.