Medium
Introduction
School Business Managers can submit a Portal Account Request (PAR) to obtain a Business Manager User Account in our business system. This special user account will be associated with your school's business account. It allows the user to see any paid and unpaid invoices for orders submitted on your school's account by any school staff associated with the account. You are able to download PDF copies of the invoices, for orders submitted, and pay for each with a credit card. You can still pay by check, via the mail, if desired. Checks can be mailed to our Fargo Office Address.
This page covers ...
How to Login
To submit a Portal Account Request (PAR), navigate to our websites homepage cde.nd.gov and click on the Store Login button.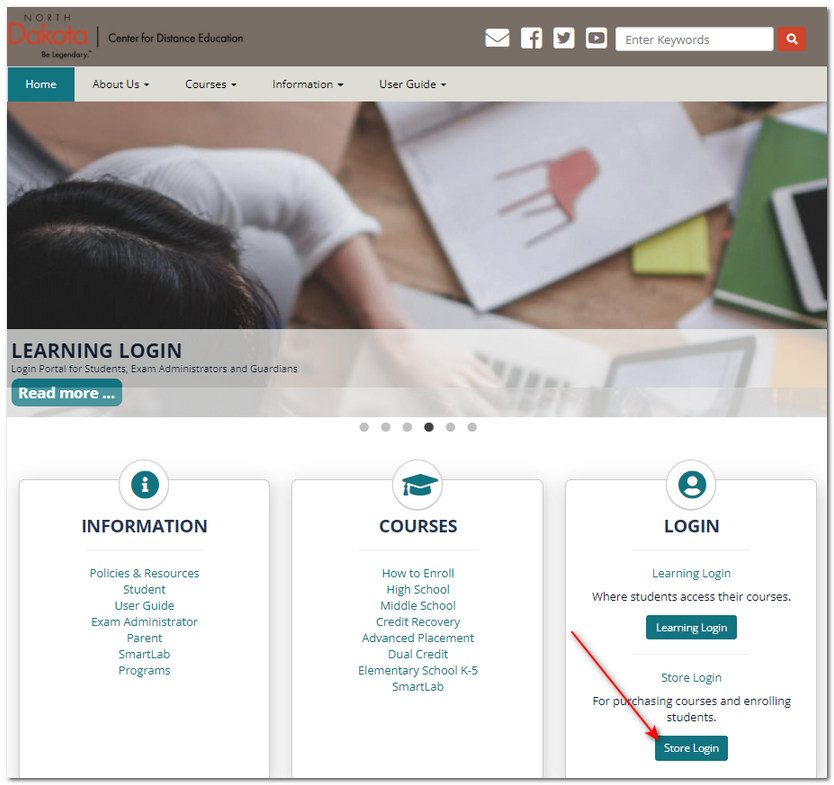 Users will need to login using one of the external identity systems. Each is described on the login page. Please choose the one that's right for your situation. If you use EduTech's Office 365 system you can use your existing k12.nd.us Office 365 User ID to login by clicking the green button. If your school doesn't use EduTech's K12 Office 365 system, then you'll need to create a ND Login User ID by clicking the blue button.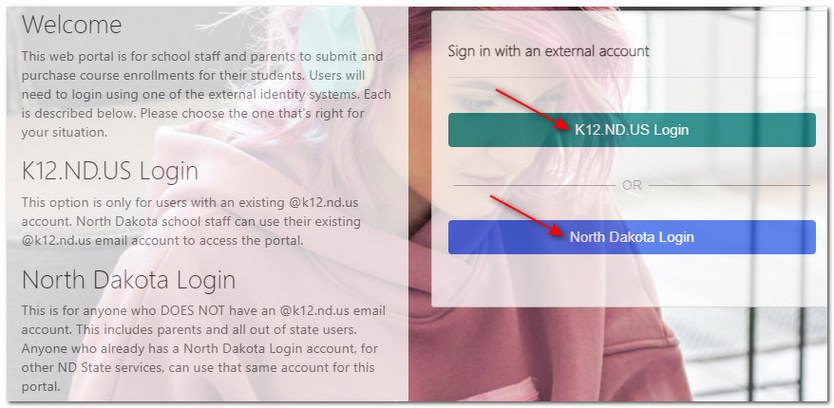 Portal Account Request (PAR)
Upon first log in, you will be presented with a short form asking you to identify yourself, school, and school's business manager (which will also be you). Once submitted we will process the Portal Account Request (PAR) and connect your user account to the correct school's business account. You'll receive a notification email once that's complete (usually within in 1 business day).
Once completed, you will be able to view any invoices attached to your school's account. You will also be able to order and purchases courses for students if needed.
How to Retrieve an Invoice
Select the Invoices menu item to list your invoices.

Select the Paid and Unpaid drop down filter for filtering invoices.

Each Invoice, once opened, has a PDF attached with a link for download.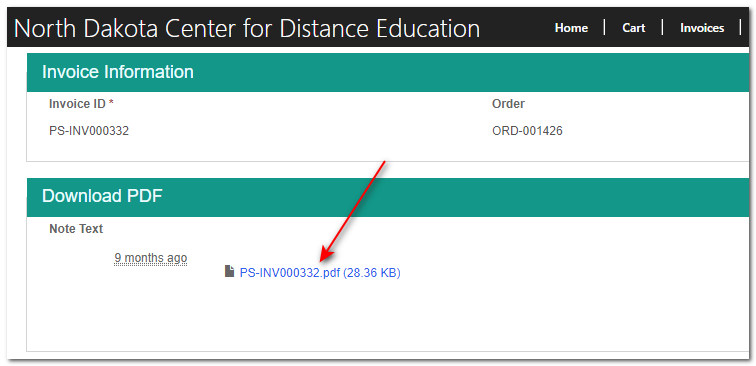 School Business Managers can request a special portal account that allows them to pay for any open invoices online with a Visa, MasterCard or Discover card. Invoices are posted at the end of the Business Day that they were processed. Unpaid Invoices will be listed with a Remaining Amount due.

Unpaid (Open) Invoices will always have a $Pay button displayed at the bottom of the page.

After you click the $Pay button, PayPal will show you (and charge you) for the Remaining Amount due. It will display that amount in the upper right corner of the screen. Once the payment is submitted, the system displays a copy of the original order.

Note - It will take approximately 15 to 30 minutes for the payment to propagate through various systems. Once that's complete your Invoice in the portal will have its status updated to "Complete" (Closed), its Remaining Amount will be set to $0.00 and it will then be displayed under the Paid Invoices listing.
Document Info and Numbering (Orders and Invoices)
This section covers the information contained on Invoices and Order Confirmation Emails.  It also suggests numbering and naming conventions for your document collection.
Enrollment Details on the Order Confirmation Email
The student enrollment details, for each order, are contained in the Order Confirmation Email that was sent to the school staff that placed the original order. It also identifies who at your school placed the order at the very top of the page.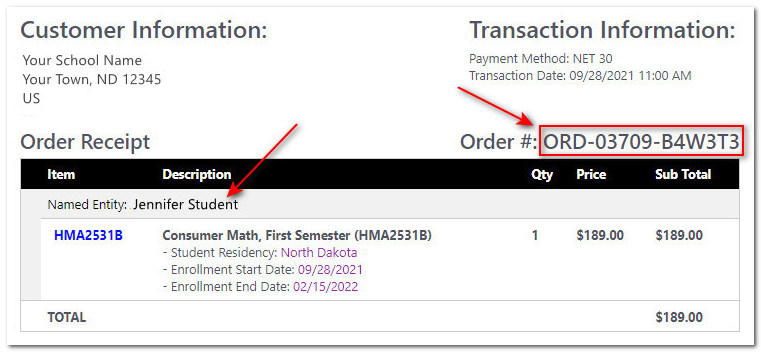 Maintaining Your Document Collection
Request that school staff, submitting orders on account, forward (or drop in a shared folder) their Order Confirmation Emails as a courtesy to the Business Manager. The Business Manager can download the invoice for the order and add it to their collection. Note the naming convention of the PDF files below. They will pair nicely, when sorted by name, and help maintain your document collection. Continue this naming as you collect future documents.

Order Number Reference on Invoice
All Invoices display the Order Number it originated from.

Student Name on Invoice
Invoices posted on or after March 28, 2022 now have the student name listed next to each course line item.

Monthly Customer Statement
At the beginning of each month a Customer Statement will be generated and emailed to the Business Manager (Primary Contact) on the Schools Account. The statement will only list Open Invoices that are Overdue (30 days or greater).
Please contact us if you have any questions.